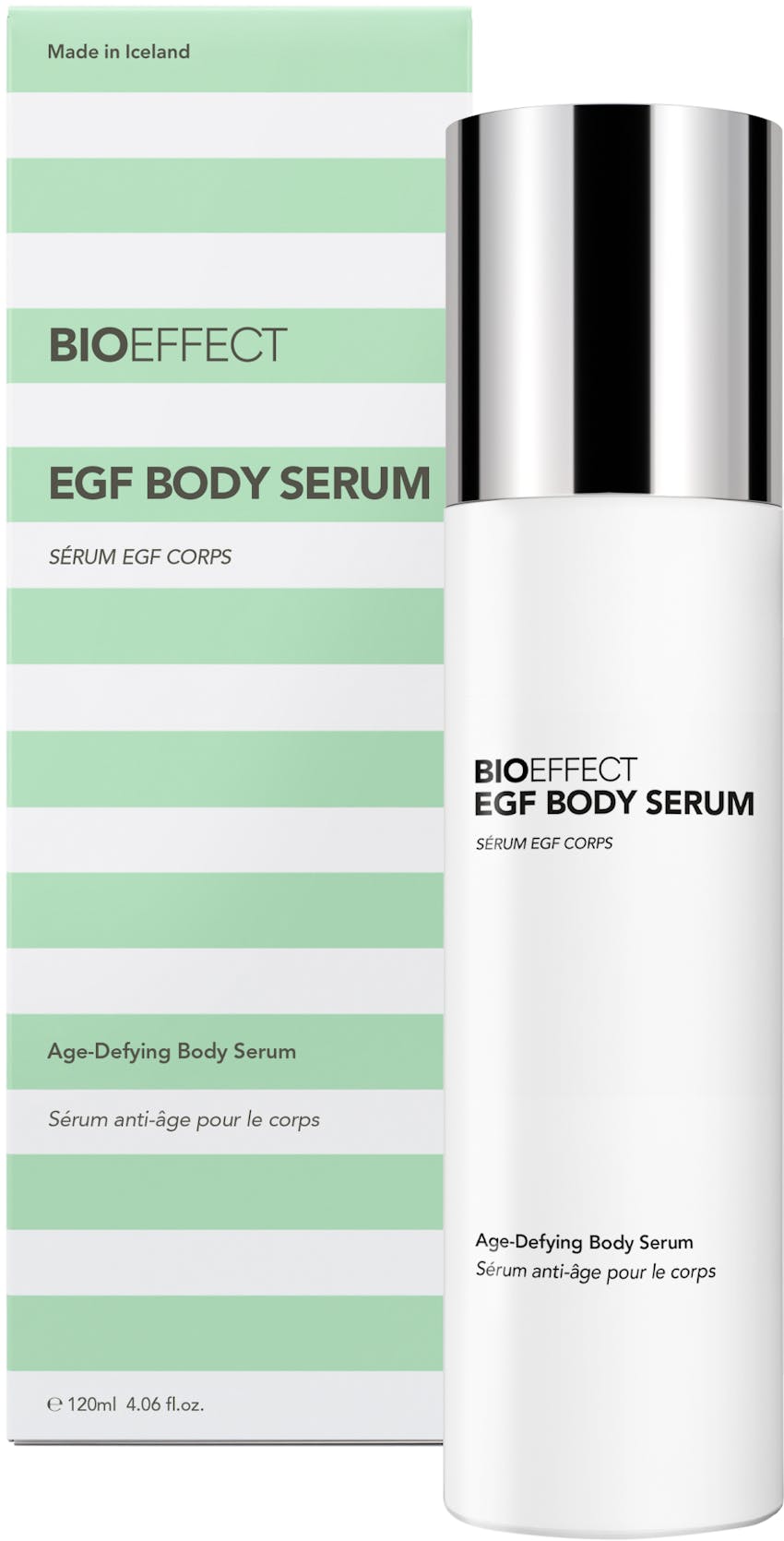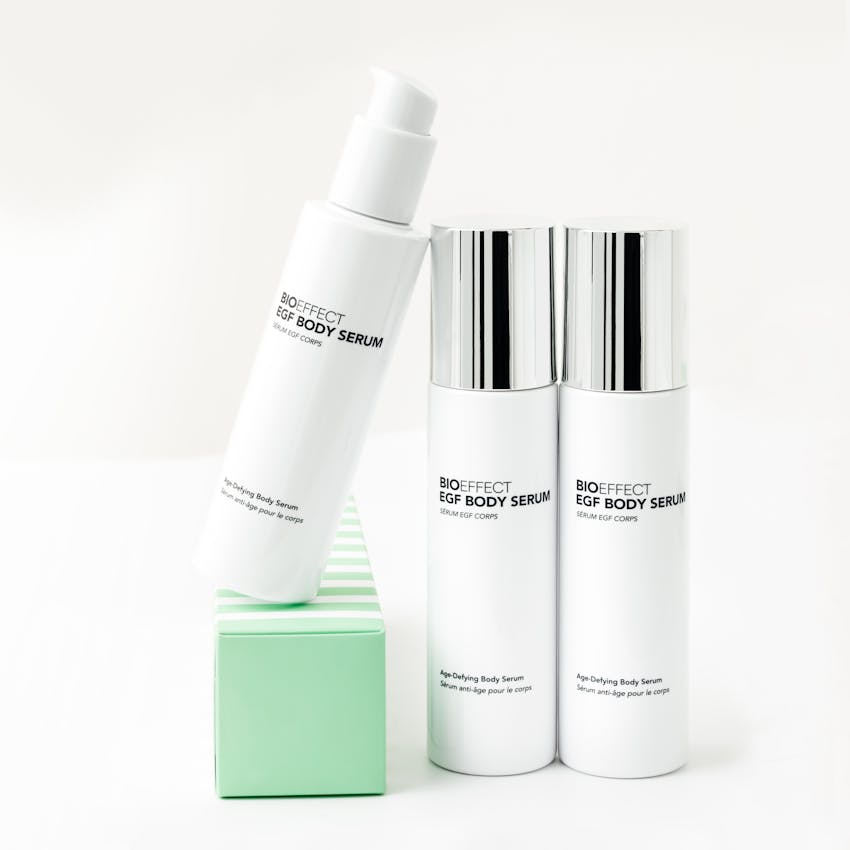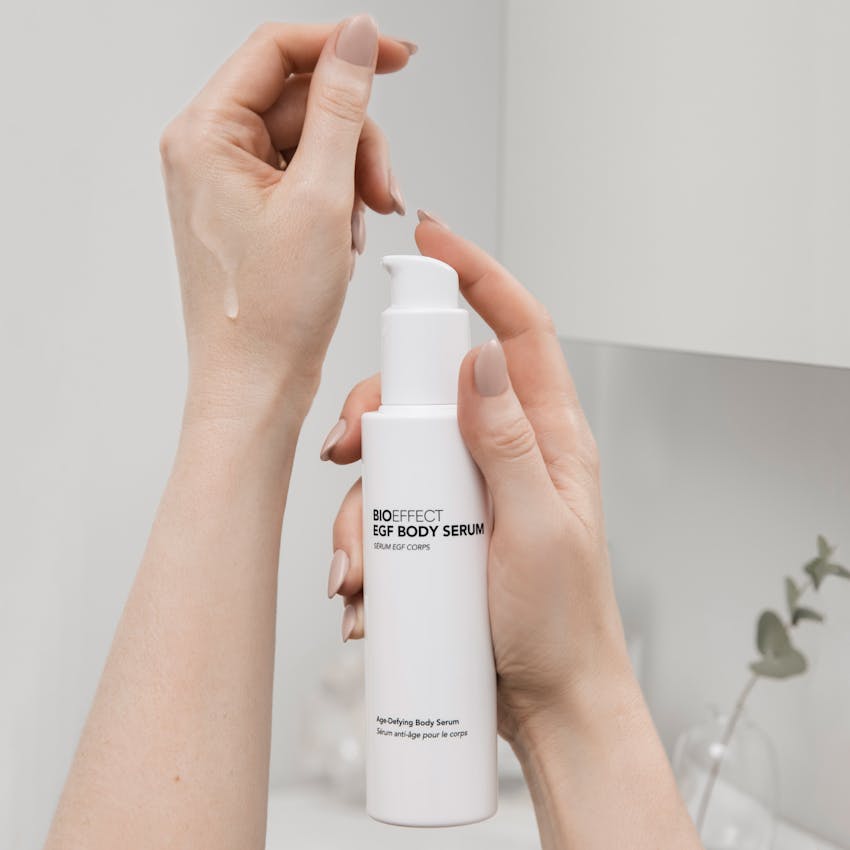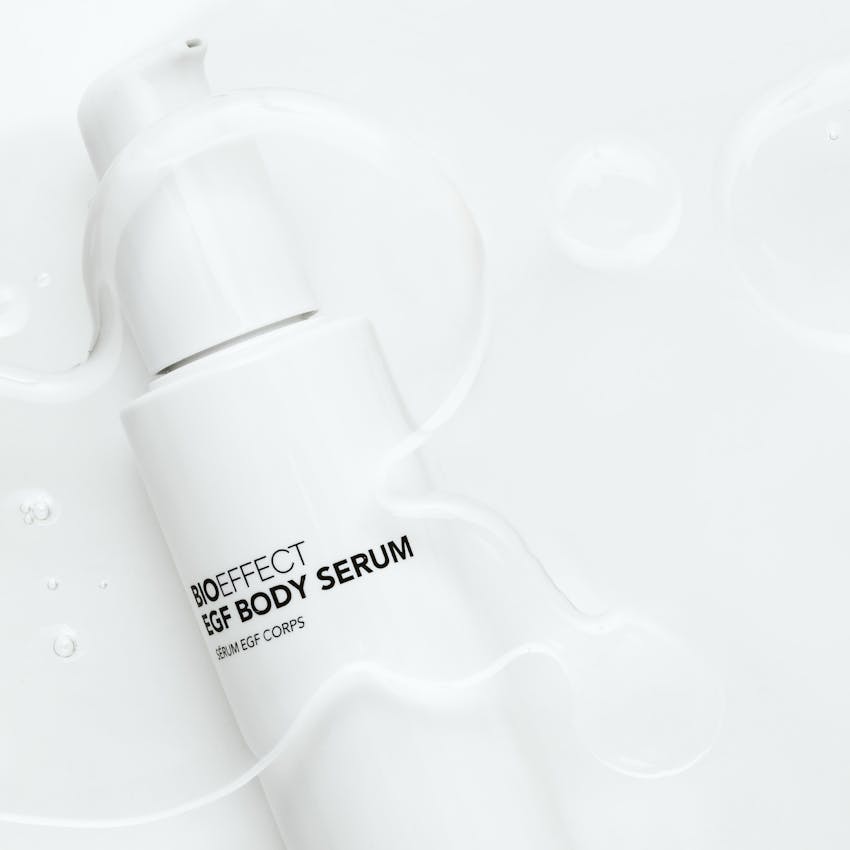 EGF Body Serum
This luxurious anti-aging body serum features a high concentration of Barley EGF and provides long-lasting hydration for visibly smoother, plumper, firmer, and healthier-looking skin with only 8 pure ingredients. Absorbs instantly to tackle dry spots and improve skin texture.
$119
or 4 interest free payments of $29.75 with
Features and Benefits
Potent Firming and Hydrating Body Serum with Barley EGF

The EGF Body Serum features a high concentration of our signature skin-replenishing protein, Barley EGF. The skin on our body is thicker than our face but is equally vulnerable to aging. This non-greasy formula is extremely lightweight and was designed to spread easily, absorb quickly, and minimize any residue prior to applying clothing – your skin will simply drink it up. Featuring pure, soft, lava-filtered Icelandic Water, Hyaluronic Acid, Barley Seed Extract, and Glycerin to revitalize the skin, provide long-term hydration, and leave the skin feeling silky smooth. Add this fragrance-free and oil-free serum featuring Barley EGF to your body skincare routine to diminish the appearance of wrinkles, improve firmness, boost moisture, and discover more radiant, youthful, and smoother-looking skin.

The NEW EGF Body Serum is an improved formula that is based on our beloved Body Intensive, which has now been discontinued. It comes in a larger 120ml bottle and featuring a higher concentration of our signature skin-replenishing protein, Barley EGF, for increased potency.
Provides Long-Lasting Hydration for the Body
Visibly Smoother, Plumper & Firmer Skin
Helps Keep Skin Looking Youthful
Silky, Smooth Texture
Absorbs Instantly
Suitable for All Skin Types
Only 8 Ingredients
Oil-free, Fragrance-free, Alcohol-free, Paraben-Free, and Gluten-Free
Dermatologically tested

Size: 120 mL/ 4.05 fl.oz.
Key Ingredients
Barley EGF – A moisture-binding and skin-rejuvenating signaling protein, and the first of its kind to be produced in plants by BIOEFFECT scientists. Barley EGF promotes water retention, reducing loss of fluids from the skin. Increased moisture levels help maintain skin thickness and appearance of density, reducing the depth of wrinkles. Barley EGF helps support the skin's natural collagen production to visibly improve appearance of skin density and minimize the appearance of fine lines and wrinkles.
Hyaluronic Acid – A vital substance naturally found in skin. It is critical for maintaining skin hydration. Known for its incredible capacity to attract and hold vast amounts of moisture. Hydrates and plumps the skin.
Glycerin – Powerful plant-based humectant that pulls moisture into the skin, while smoothing and conditioning the skin's surface.
Icelandic Water – Clean, soft, and pure, as it is geologically filtered through layers of inert volcanic lava, with a low concentration of hard minerals such as calcium and magnesium.
Full Ingredient List
Water (Aqua), Glycerin, Sodium Hyaluronate, Phenoxyethanol, Hydroxyethylcellulose, Sodium Chloride, Barley (Hordeum Vulgare) Seed Extract, Egf (Barley Sh- Oligopeptide-1)
For external use only. Use only as directed. If irritation occurs, consult a dermatologist.
Maximize Your Skincare Routine
Barley EGF can do its best work in a moisture-rich environment. To maximize results, incorporate into an everyday BIOEFFECT EGF skincare routine.
Pair with:
Volcanic Exfoliator is a clarifying facial scrub with micro-crystalline lava and ground apricot seeds also be used to soften rough areas on the body.
Info sheet
BIOEFFECT® EGF BODY SERUM
BIOEFFECT® EGF Body Serum is a revitalizing, age-defying serum for the body that provides long-term hydration for visibly smoother, plumper, and firmer looking skin.
Improves firmness and elasticity
Hydrates and nourishes skin
Smooths skin texture
Evens skin tone
Directions for use: Apply 2-3 pumps to each part of the body and massage in smooth circular motions. For best results, use daily after showering or bathing.
BIOEFFECT EGF Body Serum is suitable for all skin types and is fragrance-, alcohol- and oil-free. For very sensitive skin, test first on an inconspicuous area for three days before full application. If you have a medical history of skin disorders/diseases, please consult a physician before using BIOEFFECT EGF Body Serum.
Allergy information: Product contains barley.
Avoid direct contact with eyes. In case of contact, rinse thoroughly with warm water. Keep out of reach of children. For external use only. Keep out of direct sunlight. Store at room temperature or below.
This Product is Pure, Green and Clean
How To Use
Apply to each body area. Massage in a firm, upwards motions to areas of concern. For best results, use daily after showering or bathing while the skin is still damp as the EGF protein performs best in a moisture-rich environment.