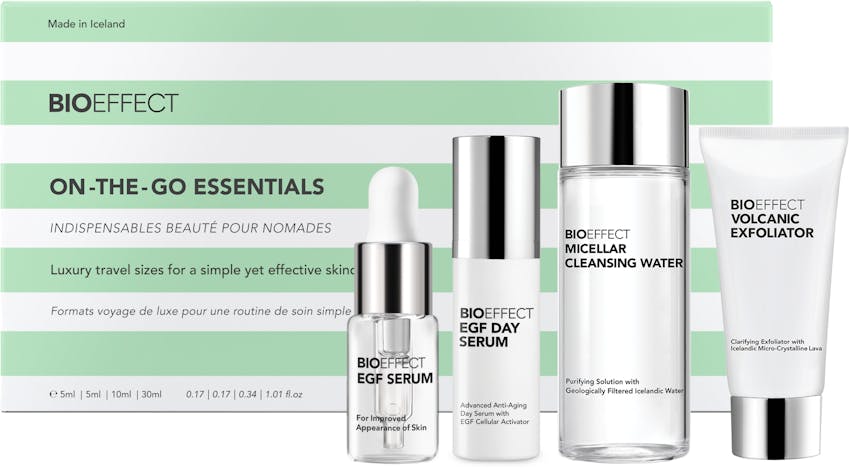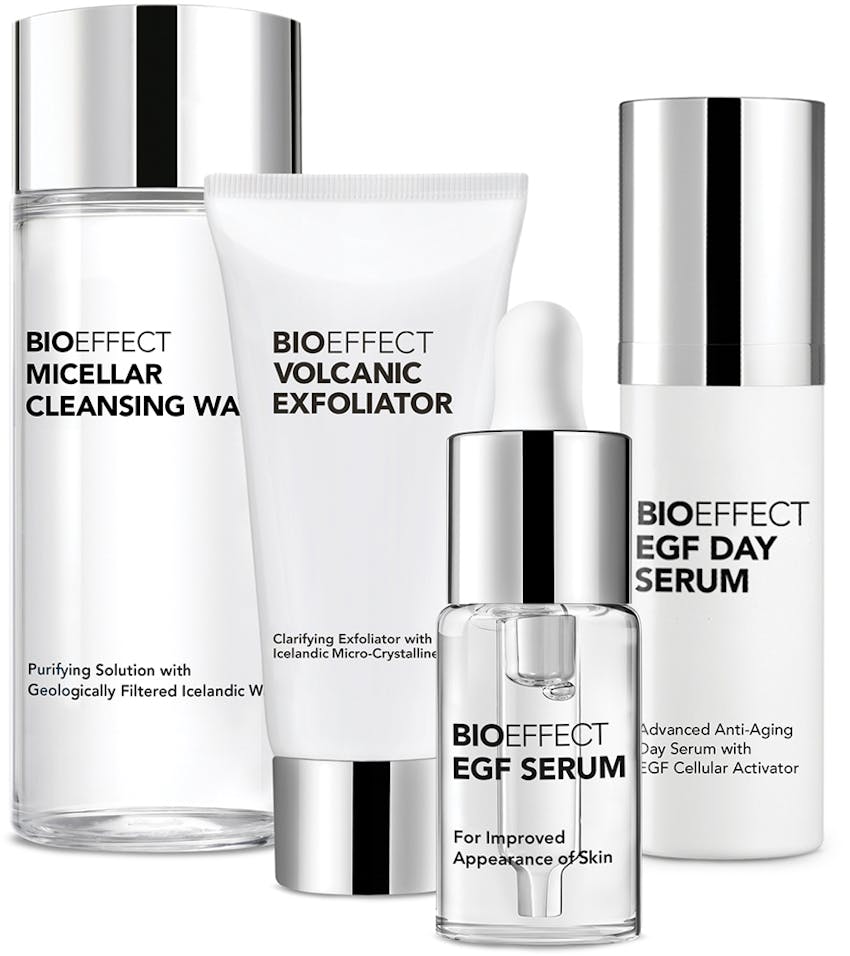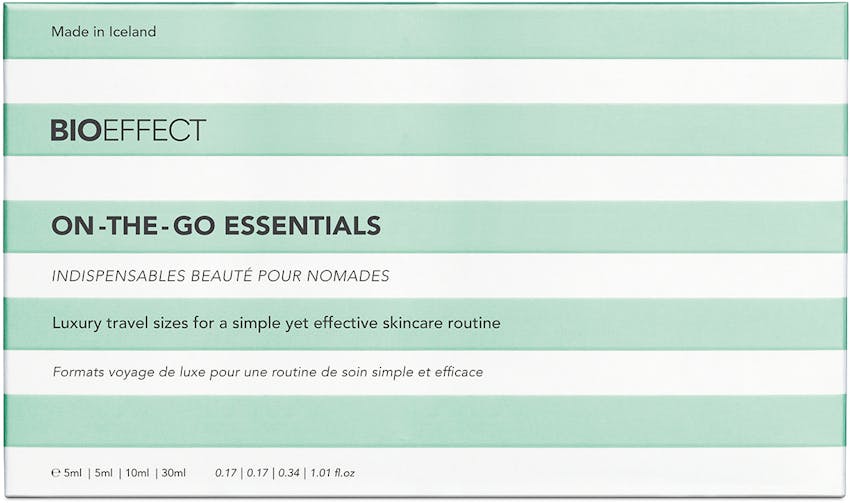 On-The-Go Essentials
A set of four BIOEFFECT products in luxury travel sizes. Everything you need for a simple yet effect skincare routine – wherever you go.
$80
Features and Benefits
Travel essentials to leave skin radiant and hydrated, from take-off to touchdown.
Optimize your travel skincare routine with this practical travel set that includes luxury miniatures of four popular BIOEFFECT products. The Micellar Cleansing Water is a gentle no-rinse cleanser that effectively removes oil, makeup, and impurities without drying out the skin. The Volcanic Exfoliator is a clarifying facial scrub containing micro-crystalline lava and ground apricot seeds to remove the build-up of dead skin and impurities and leave skin soft, smooth, and radiant. The EGF Day Serum is a lightweight, anti-aging face serum with Barley EGF that diminishes the visible signs of aging, boosts hydration, and provides a smooth finish – ideal under makeup. The EGF Serum is an award-winning, anti-aging serum with Barley EGF that reduces the appearance of wrinkles and fine lines, boosts hydration, and restores skin's youthful complexion with only 7 pure ingredients.
A simple yet effect skincare routine – wherever you go.
Includes: BIOEFFECT EGF Serum 5ml, BIOEFFECT EGF Day Serum 5ml, BIOEFFECT Volcanic Exfoliator 10ml, BIOEFFECT Micellar Cleansing Water 30ml
Cleanses, Refines, Nourishes, and Hydrates
Suitable for All Skin Types
Oil-free, Fragrance-free, Alcohol-free, Paraben-free and Gluten-free
Hypoallergenic
Size: 120 mL/ 4.05 fl.oz.
Key Ingredients
Barley EGF– Moisture-binding, skin-rejuvenating, and signaling protein. The first of its kind to be produced in plants by BIOEFFECT scientists to combat the visible effects from the loss of the EGF found in our skin naturally. Barley EGF helps support the skin's natural collagen production and is essential for keeping skin looking smooth, healthy, and youthful.
Hyaluronic Acid– A vital substance naturally found in skin. It is critical for maintaining skin hydration. Known for its incredible capacity to attract and hold vast amounts of moisture. Hydrates and plumps the skin.
Micelles– A mix of surfactants suspended in water solution. Micelles work like magnets for oil and dirt, removing impurities on the face, without leaving oily residue on the skin.
Plant-based humectants– Skin-replenishing and moisturizing ingredients that attract water from the air into the skin and help skin retain this moisture.
Icelandic Water– Clean, soft, and pure, as it is geologically filtered through layers of inert volcanic lava, with a low concentration of hard minerals such as calcium and magnesium.
Micro-Crystalline Lava– Tiny exfoliating particles made of micro-crystalline lava from the Icelandic volcano Hekla to buff away dry and dead skin.
Ground Apricot Seeds– Apricot seeds ground into a powder that buffs and refines the skin to remove dry and dead skin. Also has deep moisturizing benefits as it is high in fatty acids, vitamins, and minerals.
Full Ingredient List
BIOEFFECT Micellar Cleansing Water: Water (Aqua), Isopentyldiol (Hydrating Agent), Glycerol (Hydrating Agent), Peg-7 Glyceryl Cocoate, Propylene Glycol (Hydrating Agent), Sorbitol (Hydrating Agent), Coco Betaine, Polysorbate 20, Phenoxyethanol, Citric Acid, Tetrasodium Edta
BIOEFFECT Volcanic Exfoliator: Caprylic/capric Triglyceride, Glycerin, Sunflower (Helianthus Annuus) Seed Oil, Propylene Glycol Dipelargonate, Water (Aqua), Armenian Plum (Prunus Armeniaca) Seed Powder, Sucrose Laurate, Lava Powder, Sucrose Palmiate, Sucrose Stearate, Tocopheryl Acetate, Sodium Salicylate
BIOEFFECT EGF Day Serum: Water, Propylene Glycol, Glycerin, Sorbitol, Carbomer, Sodium Hyaluronate, Phenoxyethanol, Sodium Chloride, Hordeum Vulgare Seed Extract, Egf (Barley Sh-oligopeptide-1)
BIOEFFECT EGF Serum: Glycerin, Water (Aqua), Sodium Hyaluronate, Tromethamine, Sodium Chloride, Barley (Hordeum Vulgare) Seed Extract, Egf (Barley Sh-oligopeptide-1)
For external use only. Use only as directed. If irritation occurs, consult a dermatologist.
This Product is Pure, Green and Clean
How To Use
Step 1: Saturate a recyclable cotton pad with Micellar Cleansing Water and gently sweep over the face, neck, and eyes, repeating until the cotton pad comes away clean.
Step 2: Apply a small amount of Volcanic Exfoliator to clean, damp skin. Massage skin gently in circular motions, avoiding the eye area. Rinse thoroughly. Use 1-2 times per week, or whenever you feel necessary.
Step 3: In the morning, apply 1-2 pumps of EGF Day Serum to fresh skin on face, neck, and décolleté. Allow the serum to absorb completely for 3-5 minutes before applying makeup or sunscreen. In the evening, apply 2-4 drops of EGF Serum to face, neck, and décolleté for advanced skin repair while you sleep.
pruduct
very nice product my wife she will bying than you
Bottom line: Yes, I would recommend this to a friend