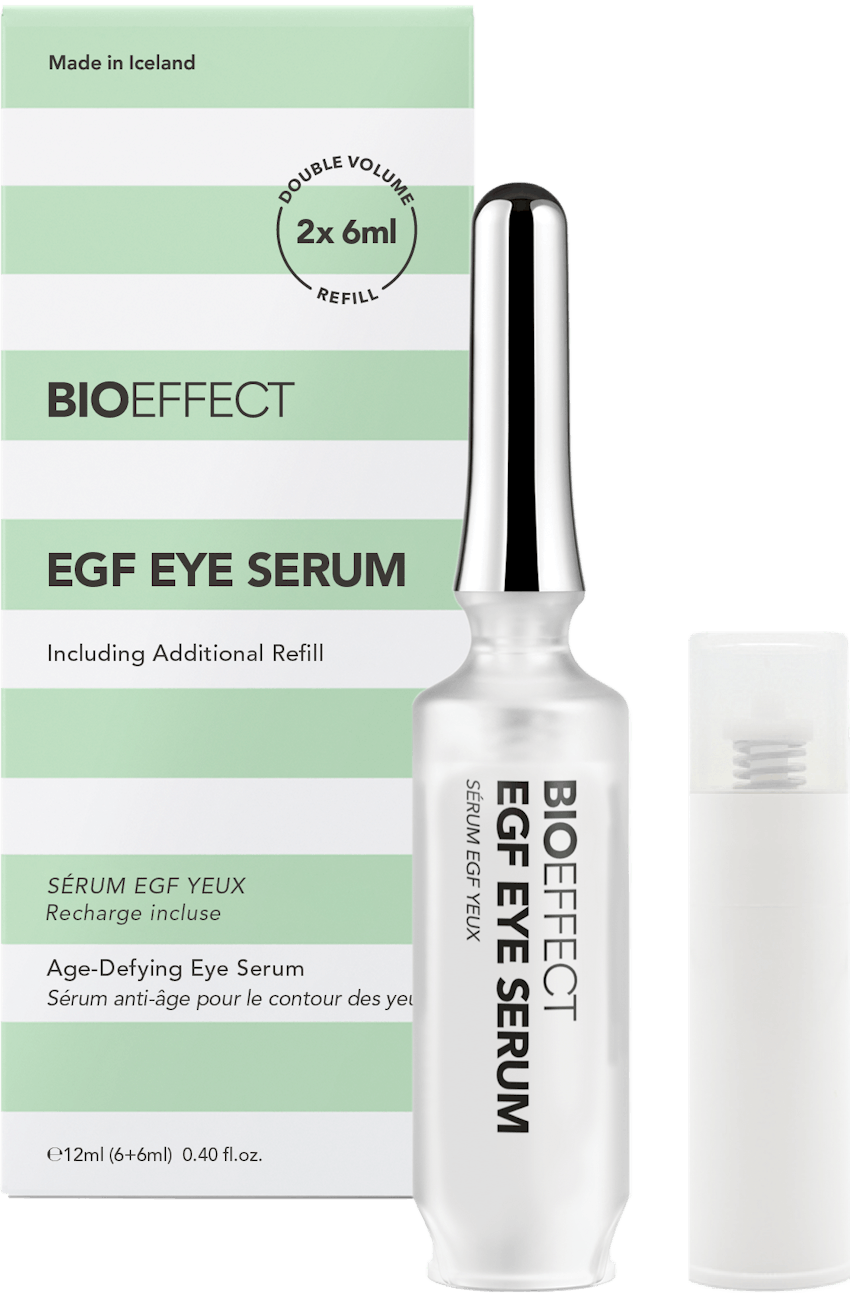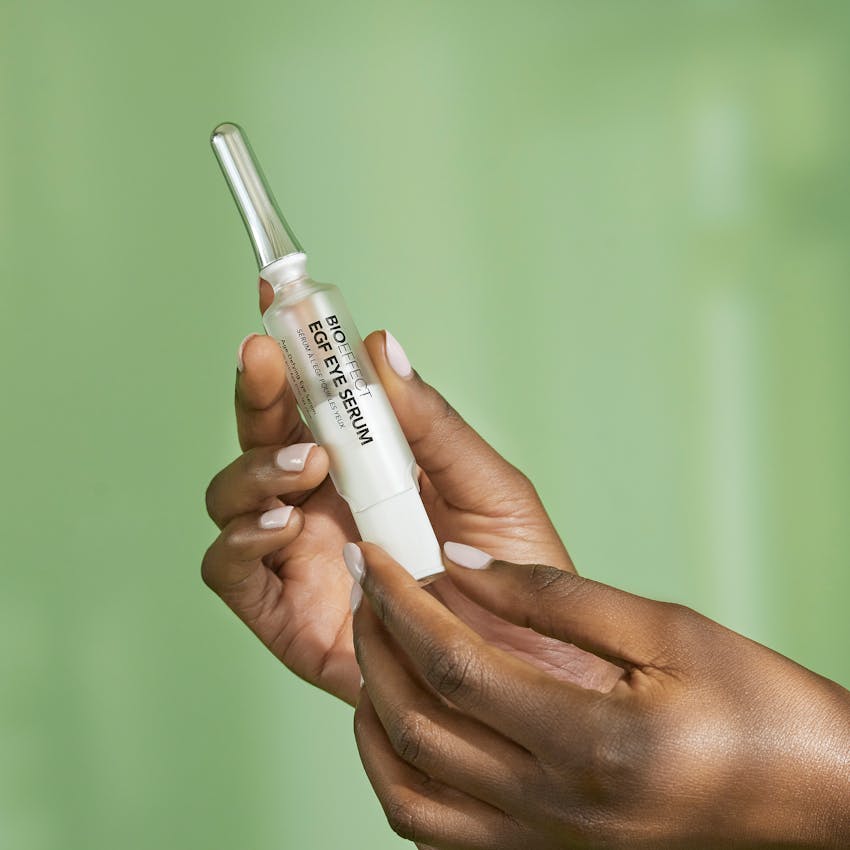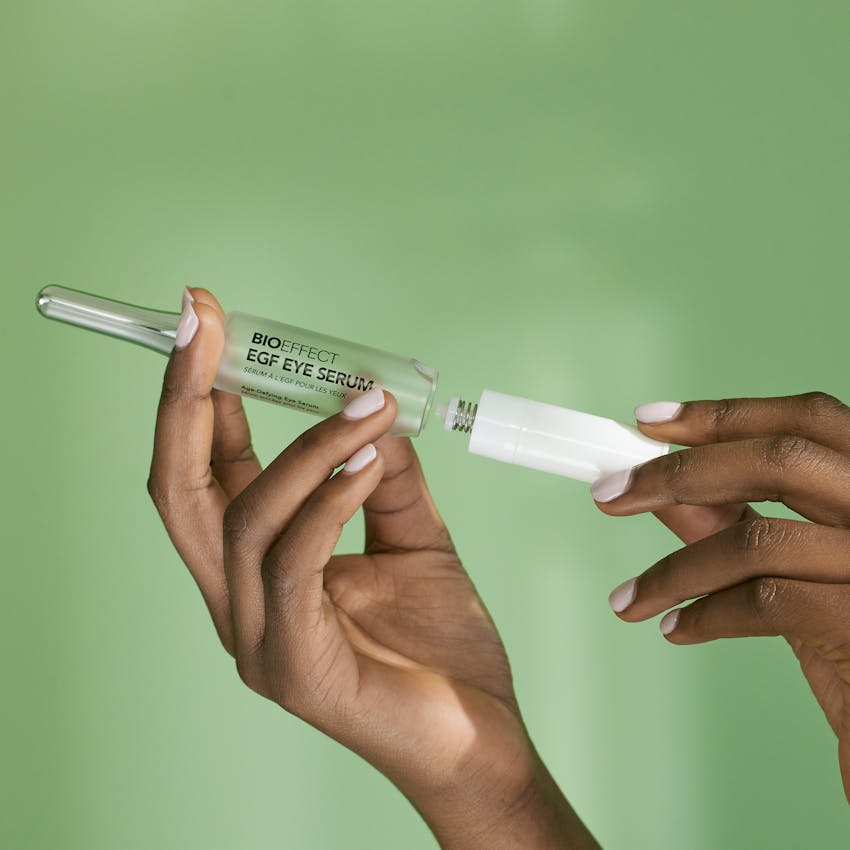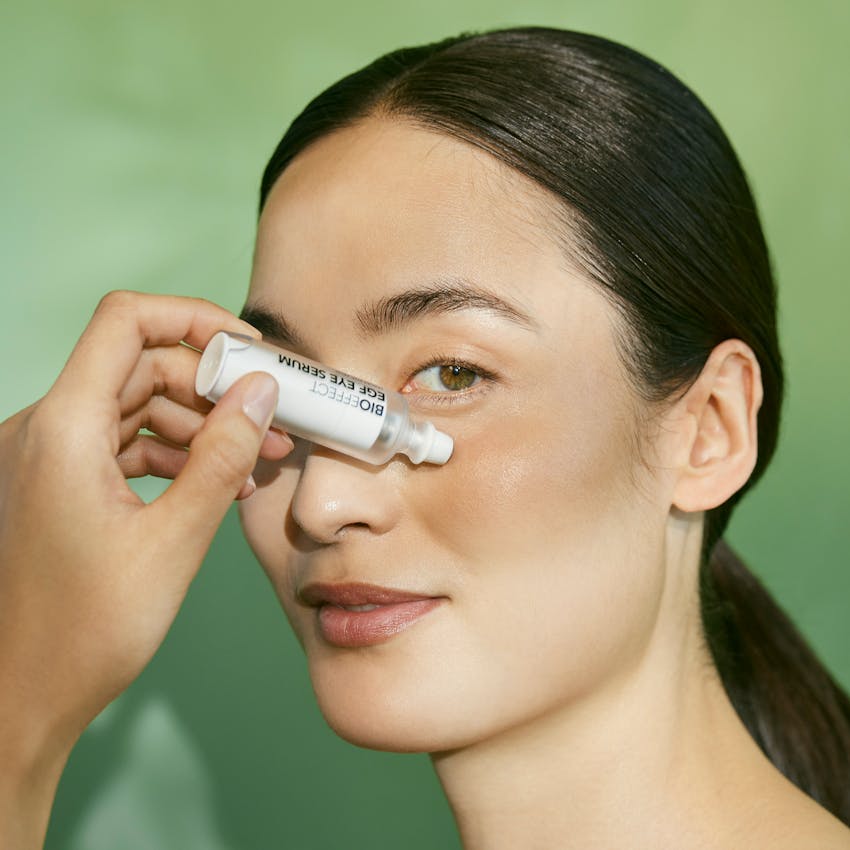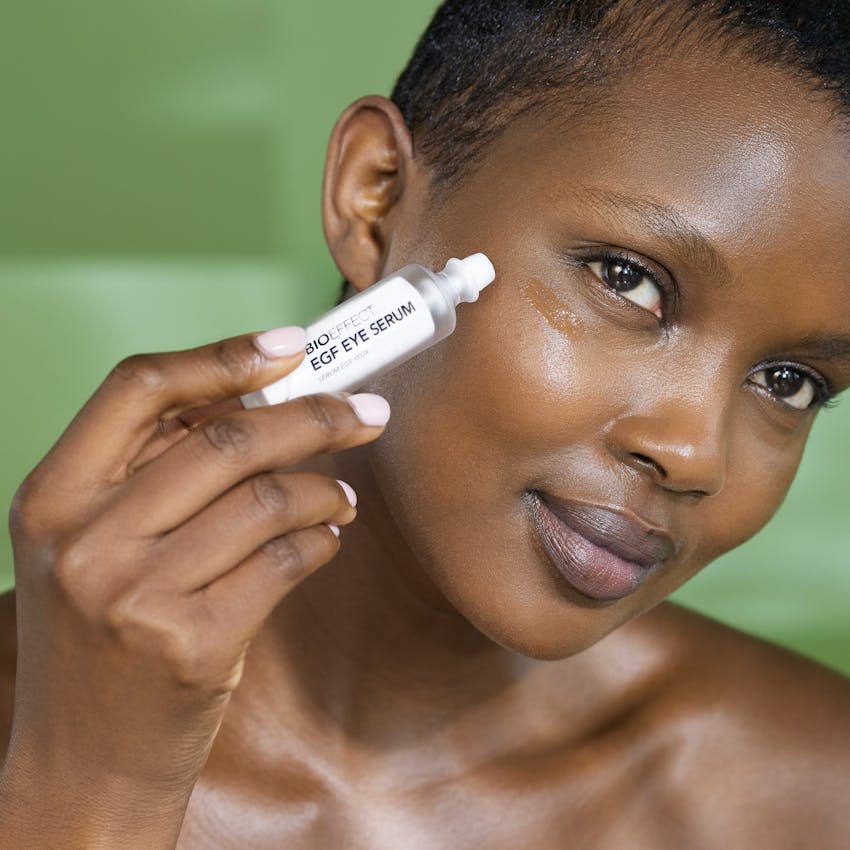 EGF Eye Serum with Refill
The rejuvenating EGF Eye Serum now with a value refill included. Swap out the original with the replacement pod and keep enjoying your favorite age-defying eye product. The firming and plumping serum is formulated to target the appearance of wrinkles, fine lines, crow's feet, and crepiness. The cooling rollerball applicator soothes and depuffs the delicate eye contour. Get your refillable duo, featuring a full-size EGF Eye Serum (6ml) and a refill pod (6ml), with value savings of 15%.
$159
or 4 interest free payments of $39.75 with
Features and Benefits
Advanced EGF Eye Serum with Value Refill Included for 15% Savings.
The EGF Eye Serum, known for its exceptional anti-aging benefits, can now be purchased with a convenient refill pod that locks easily into the EGF Eye Serum container.
The featherlight and revitalizing eye serum is specifically developed to target the appearance of fine lines and wrinkles, crow's feet, and crepiness in the delicate eye contour area. Formulated with a high concentration of our Barley EGF, Hyaluronic Acid, and pure Icelandic water to leave skin around the eyes looking firmer, smoother, plumper, and visibly hydrated. The innovative applicator features a cooling steel rollerball for soothing and depuffing benefits, while minimizing the appearance of dark circles. We recommend pairing the EGF Eye Serum with our Imprinting Eye Mask for maximum efficacy and enhanced results.
Try our advanced eye care refillable duo and experience the benefits of a more efficient and eco-friendly daily routine.
Includes a Full-Size EGF Eye Serum (6ml) and Refill Pod (6ml)
Reduces Appearance of Fine Lines and Wrinkles
Reduces Look of Puffiness, Crepiness, and Saggy Skin
Hydrating
Visibly Plumping and Smoothing
Visibly Improves Radiance
Cooling and Depuffing Rollerball Applicator
Suitable for All Skin Types
Oil-Free, Fragrance-Free, Alcohol-Free, Paraben-Free, and Gluten-Free
Ophthalmologist Tested
Dermatologically Tested
Size: 6 mL / 0.2 fl.oz
Key Ingredients
Barley EGF – A moisture-binding and skin-rejuvenating signaling protein, and the first of its kind to be produced in plants by BIOEFFECT scientists. Barley EGF promotes water retention, reducing loss of fluids from the skin. Increased moisture levels help maintain skin thickness and appearance of density, reducing the depth of wrinkles. Barley EGF helps support the skin's natural collagen production to visibly improve appearance of skin density and minimize the appearance of fine lines and wrinkles.
Hyaluronic Acid – A vital substance naturally found in skin. It is critical for maintaining skin hydration. Known for its incredible capacity to attract and hold vast amounts of moisture. Hydrates and plumps the skin.
Glycerin – Powerful plant-based humectant that pulls moisture into the skin, while smoothing and conditioning the skin's surface.
Icelandic Water – Clean, soft, and pure, as it is geologically filtered through layers of inert volcanic lava, with a low concentration of hard minerals such as calcium and magnesium.
Full Ingredient List
WATER (AQUA), GLYCERIN, BUTYLENE GLYCOL, CARBOMER, SODIUM CHLORIDE, PHENOXYETHANOL, SODIUM CITRATE, SODIUM DEHYDROACETATE, SODIUM HYALURONATE, BARLEY (HORDEUM VULGARE) SEED EXTRACT, EGF (BARLEY SH-OLIGOPEPTIDE-1)
For external use only. Use only as directed. If irritation occurs, consult a dermatologist.
Real, Proven Results
In-house scientific efficacy study using the VISIA Skin Analysis System with participants using EGF Eye Serum twice daily for 3 months.
Up to 81%

improvement in skin hydration

Up to 59%

reduction in the appearance of wrinkles and fine lines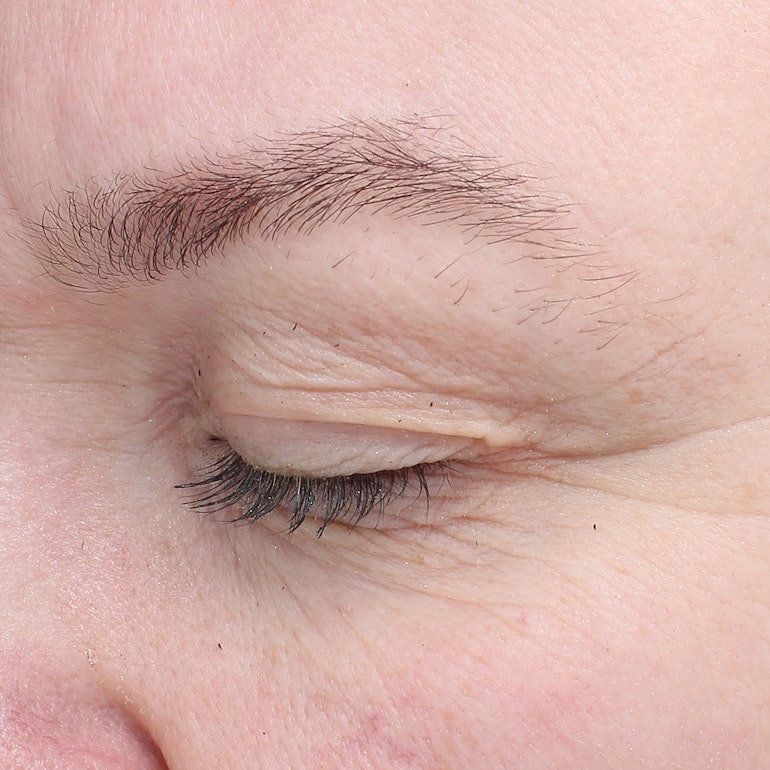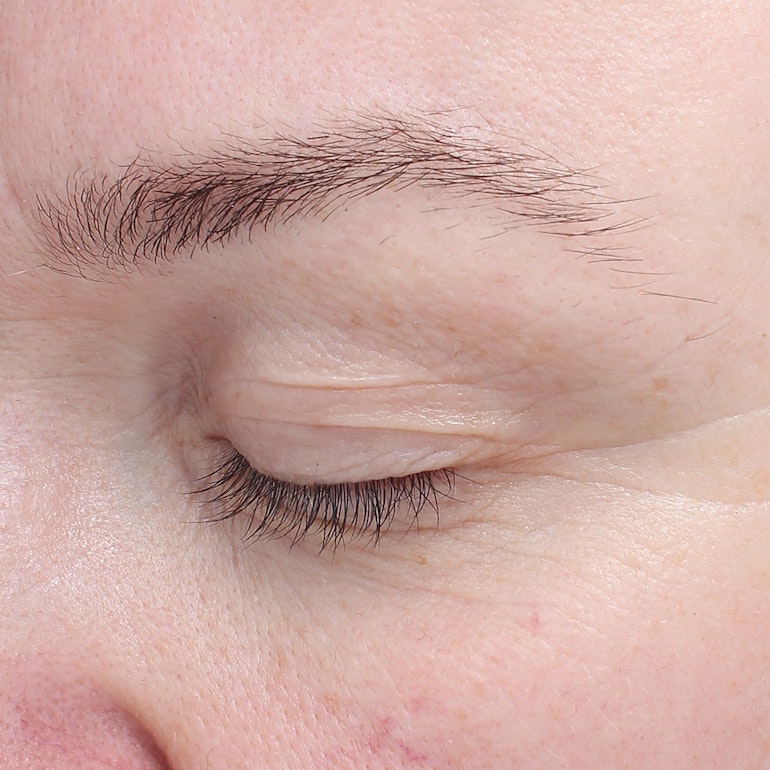 Maximize Your Skincare Routine
Barley EGF can do its best work in a moisture-rich environment. To maximize results, incorporate into an everyday BIOEFFECT EGF skincare routine.
Pair with:
Imprinting Eye Mask for an ultimate hydration boost that delivers firmer, more radiant-looking skin around the eyes.
EGF Serum for a full-face anti-aging treatment. Our award-winning anti-aging serum contains only 7 pure ingredients.
Info sheet
BIOEFFECT® EGF EYE SERUM

BIOEFFECT® EGF EYE SERUM is a powerful age-defying formula, specifically developed to target the delicate eye area. The light serum is easy to apply with stainless steel roller applicator and immediately rebalances the skin's moisture levels and provides long term, age-defying effects.
Reduces appearance of fine lines and wrinkles
Reduces the look of under-eye puffiness
Provides radiance and firmness
Ophthalmology tested
Directions for use: Press gently on the dispenser base to release product, then apply with the cooling roller ball to skin above and below the eyes. Tap gently with fingertips for even penetration. Let absorb before applying creams, sunscreen, or makeup. Can be used morning and night, on its own or paired with other BIOEFFECT products for added benefit.
BIOEFFECT EGF EYE SERUM is suitable for all skin types and is fragrance-, alcohol- and oil-free. For very sensitive skin, test first on a small patch of skin for three days before full application. If you have a medical history of skin disorders/diseases, please consult a physician before using BIOEFFECT EGF EYE SERUM.
Allergy information: Product contains barley.
Avoid direct contact with eyes. In case of contact, rinse thoroughly with warm water. Keep out of reach of children. For external use only. Keep out of direct sunlight. Store at room temperature or below.
This Product is Pure, Green and Clean
How To Use
Press gently on the dispenser base to release product and apply the cooling roller ball to the skin above and below the eye. Massage gently with fingertips for even penetration. Let absorb for 3-5 minutes before applying sunscreen or makeup.
To insert the refill pod, simply pull the white bottle out from the bottom of the outer container. Remove the cap from the refill and place it inside the original container. Push gently until you hear a 'click'.