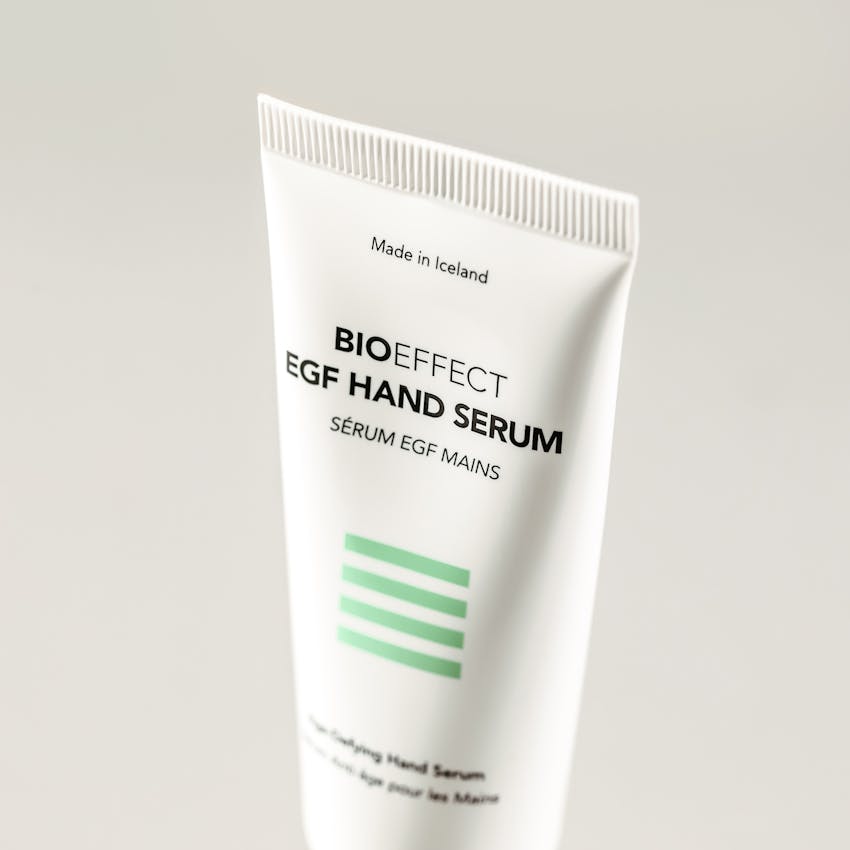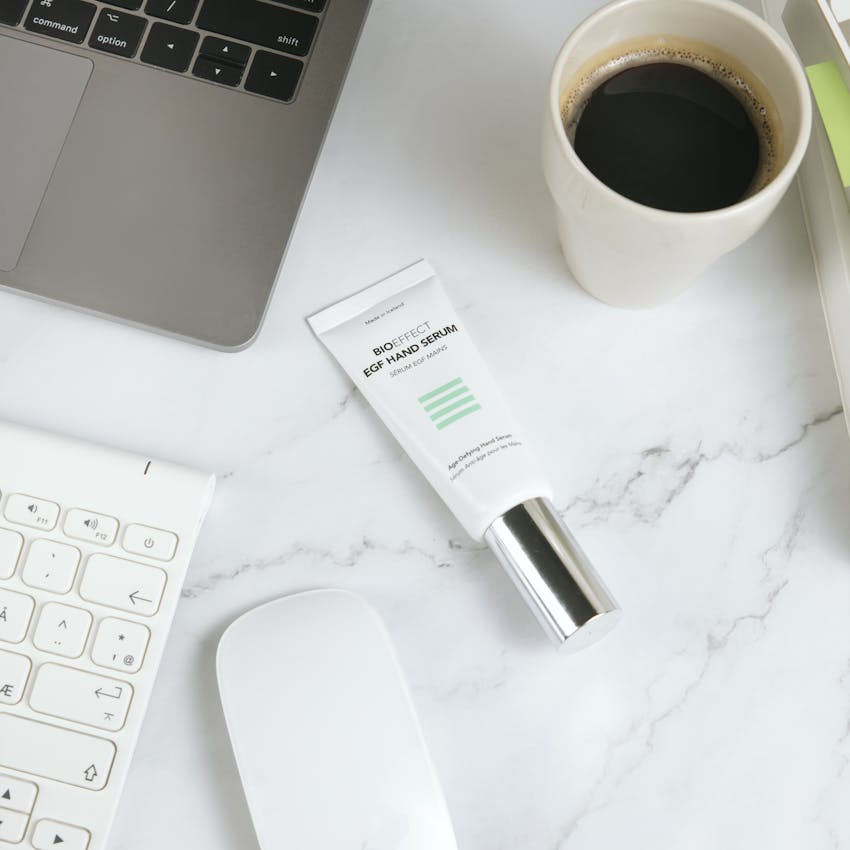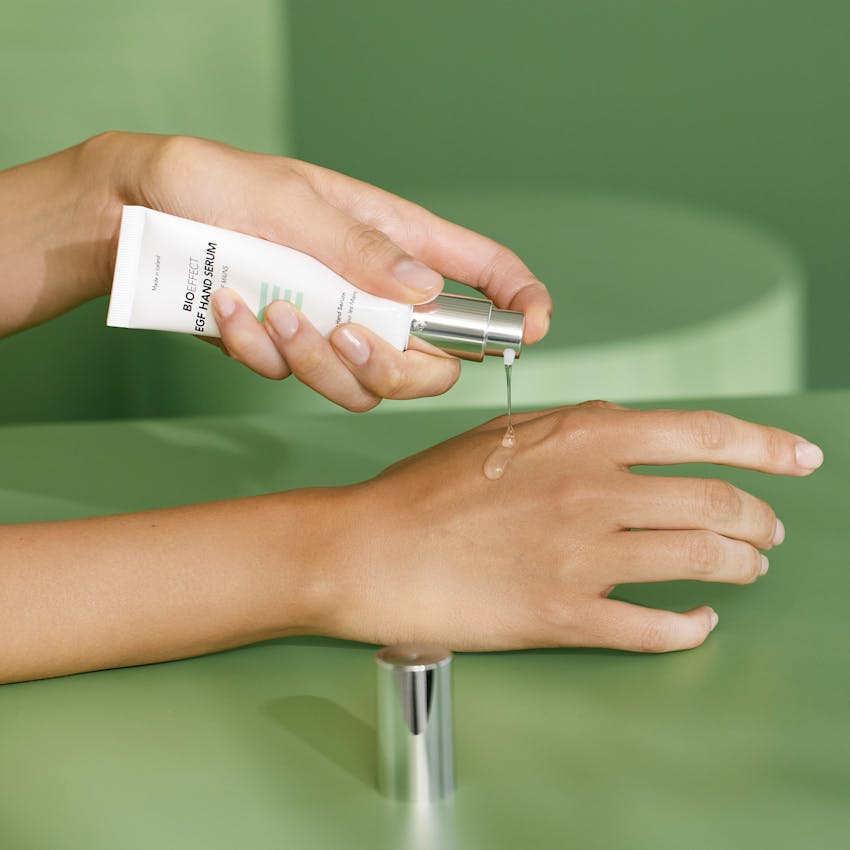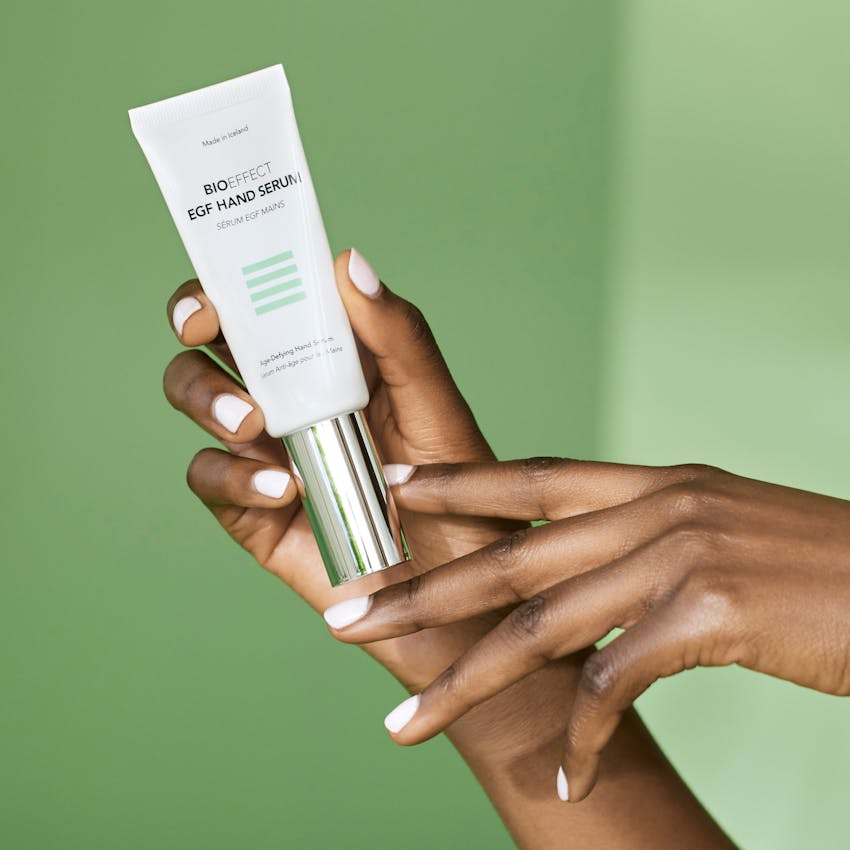 EGF Hand Serum
An innovative age-defying serum to intensely nourish, protect, and soften the skin on the hands. Formulated with a potent blend of effective ingredients including our proprietary Barley EGF, Niacinamide, Ceramide, and Hyaluronic Acid to deeply hydrate dry and cracked hands while helping to support skin barrier function and diminishing the appearance of hyperpigmentation. The gel-like texture of EGF Hand Serum is designed to glide easily onto skin, delivering hydration and nourishing ingredients deep into the skin.
$55
or 4 interest free payments of $13.75 with
Features and Benefits
Nourish, protect, and rejuvenate dry and overwashed hands.
The EGF Hand Serum is a potent hand care formula that instantly and intensely nourishes hands, leaving them silky and velvety smooth after each application. It was specifically designed to provide skin barrier protection and instant yet long lasting hydration to your hands.
The gel-like texture of EGF Hand Serum is designed to glide easily onto skin. The potent complex is enriched with our unique Barley EGF, helping protect hands by enhancing the skin barrier's ability to attract and retain moisture. Optimal moisture levels help keep skin looking dense and plump, making this innovative serum ideal for more mature hands. The combination of Niacinamide, Ceramide, and Barley Seed Extract helps protect against environmental stressors and pollution, providing soothing and antioxidant benefits to the skin. Niacinamide also works to reduce the appearance of brown spots and even out hyperpigmentation to brighten skin and even skin tone. This hand serum also features Hyaluronic Acid and Diglycerin to enhance moisture levels and hydrate hands, both immediately and over time.
The EGF Hand Serum is ideal for daily hand care, especially for dry, cracked, irritated, or over washed hands. Show your hands some love and provide them with the nurturing care they deserve.
Boosts Hydration and Moisture Retention
Helps Improve Skin Barrier Function
Reduces Visible Hyperpigmentation
Improves and Evens Skin Tone
Protects Against Environmental Stressors and Pollution
Visibly Smoother, Plumper, and Firmer Skin
Suitable for Sensitive Skin
Oil-Free, Fragrance-Free, Alcohol-Free, Paraben-Free, and Gluten-Free
Dermatologically Tested
Key Ingredients
Barley EGF – A moisture-binding and skin-rejuvenating signaling protein, and the first of its kind to be produced in plants by BIOEFFECT scientists. Barley EGF increases moisture binding capacities, reducing loss of moisture from the skin. Increased moisture levels help maintain skin thickness and appearance of density, reducing the depth of wrinkles. Barley EGF helps support the skin's natural collagen production to visibly improve appearance of skin density and minimize the appearance of fine lines and wrinkles.
Hyaluronic Acid – A vital substance naturally found in skin, critical for maintaining skin hydration. Known for its incredible capacity to attract and hold vast amounts of moisture.
Niacinamide – Also known as Vitamin B3. Visibly improves skin texture, evens skin tone, and reduces hyperpigmentation. Protects skin by helping improve skin barrier function.
Ceramide – Deeply hydrates skin and boosts moisture levels while improving skin barrier function. Protects against environmental aggressors including harsh weather and pollution.
Diglycerin – Powerful plant-based humectant that pulls moisture into the skin, helping skin stay hydrated and soft while improving skin barrier function.
Icelandic Water – Clean, soft, and pure, as it is geologically filtered through layers of inert volcanic lava. With a low concentration of hard minerals such as calcium and magnesium, making it incredibly gentle, soft, and kind to the skin.
Full Ingredient List
WATER (AQUA), DIGLYCERIN, ISOPENTYLDIOL, NIACINAMIDE, PHENOXYETHANOL, GLYCERIN, CARBOMER, BUTYLENE GLYCOL, GLYCOSPHINGOLIPIDS, SODIUM HYALURONATE, SODIUM HYDROXIDE, BARLEY (HORDEUM VULGARE) SEED EXTRACT, EGF (BARLEY SH-OLIGOPEPTIDE-1)
For external use only. Use only as directed. If irritation occurs, consult a dermatologist.
Info sheet
BIOEFFECT® EGF HAND SERUM
BIOEFFECT® EGF HAND SERUM is an age-defying hand serum that hydrates the skin and helps support the skin barrier, leaving hands soft and well nourished.
Reduces visible signs of skin aging
Hydrates and nourishes skin
Improves skin barrier function, boosting moisture retention
Improves skin texture and tone
Fast absorbing gel-like texture

Directions for use: Apply to hands and massage into skin until completely absorbed. Use as often as needed.
BIOEFFECT EGF HAND SERUM is suitable for all skin types and is fragrance-, alcohol-, and oil-free.
For very sensitive skin, test first on a small patch of skin for three days before full application.
If you have a medical history of skin disorders/diseases, please consult a physician before using BIOEFFECT EGF HAND SERUM.
Allergy information: Product contains barley.
Avoid direct contact with eyes. In case of contact, rinse thoroughly with warm water. Keep out of reach of children. For external use only. Keep out of direct sunlight. Store at room temperature or below.
This Product is Pure, Green and Clean
How To Use
Apply 1-3 pumps to your hands and massage into the palms and back of your hands until completely absorbed. Use as often as desired, especially after washing or using hand sanitizer. Apply generously in the evening to let the actives do their best work while you sleep.