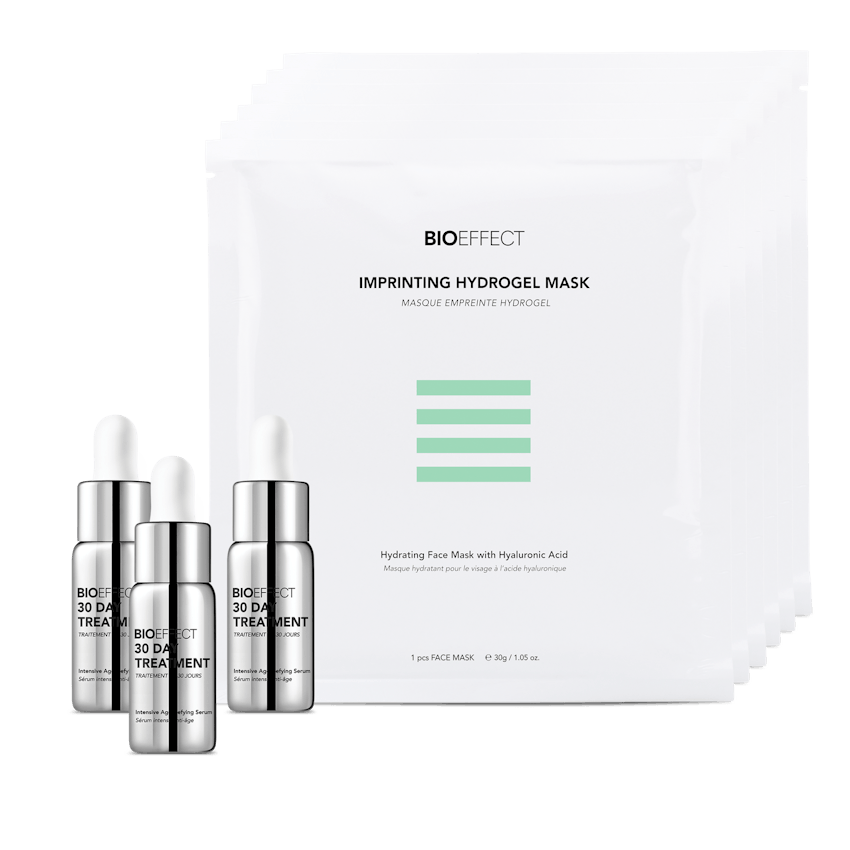 Repair Collection
Mature skin in sure to benefit from the BIOEFFECT Repair Collection, featuring advanced and effective age-defying products to intensely tackle visible signs of skin aging. Experience potent and highly concentrated products for a transformative age-defying benefit. Full value is £289.
£249
or 4 interest free payments of £62.25 with
Products
30 Day Treatment: Our most potent age-defying treatment features 3 different Barley growth factors to tackle the main visible signs of aging: wrinkles, dryness, roughness, sagginess, and uneven skin tone. Transform your complexion for firmer, smoother, plumper-looking skin in just 30 days with this fast-acting and highly concentrated boost to regular age-defying skincare.
Imprinting Hydrogel Mask 6-Pack: Deeply soothing and hydrating face mask that is specifically designed to deliver intense moisturization and maximize the efficacy of Barley growth factors in BIOEFFECT serums and treatments. Boosts the efficacy of the 30 Day Treatment.
Key Ingredients
Barley EGF – A moisture-binding and skin-rejuvenating signaling protein, and the first of its kind to be produced in plants by BIOEFFECT scientists. Barley EGF promotes water retention, reducing loss of fluids from the skin. Increased moisture levels help maintain skin thickness and appearance of density, reducing the depth of wrinkles. Barley EGF helps support the skin's natural collagen production to visibly improve appearance of skin density and minimize the appearance of fine lines and wrinkles.
Barley KGF – A signaling protein that supports our skin's natural rejuvenation process and helps keep the skin barrier intact and healthy-looking.
Barley IL-1a – A signaling protein that supports the skin's structural integrity and maintain its natural firmness.
Hyaluronic Acid – A vital substance naturally found in skin. It is critical for maintaining skin hydration. Known for its incredible capacity to attract and hold vast amounts of moisture. Hydrates and plumps the skin.
Glycerin – Powerful humectant that pulls moisture into the skin, while smoothing and conditioning the skin's surface.
Full ingredient list
30 Day Treatment: GLYCERIN, WATER (AQUA), SODIUM HYALURONATE, TROMETHAMINE, SODIUM CHLORIDE, BARLEY (HORDEUM VULGARE) SEED EXTRACT, EGF (BARLEY SH-OLIGOPEPTIDE-1), IL-1A (BARLEY SH-POLYPEPTIDE-17), KGF (BARLEY SH-POLYPEPTIDE-3)
Imprinting Hydrogel Mask: WATER (AQUA), GLYCERIN, DIPROPYLENE GLYCOL, 1,2-HEXANEDIOL, CERATONIA SILIQUA (CAROB) GUM, CHONDRUS CRISPUS POWDER, CHONDRUS CRISPUS EXTRACT, SODIUM HYALURONATE, CELLULOSE GUM, SODIUM POLYACRYLATE, PHENOXYETHANOL, SUCROSE, HYDROGENATED POLYDECENE, POTASSIUM CHLORIDE, TRIDECETH-6, DISODIUM EDTA
Perfect for
Fine lines and wrinkles
Fine lines often indicate the beginning of the skin's aging process. They form in various areas of the face, for example our expression lines. They are small and shallow and may be hard to see initially. Fine lines are superficial and usually respond to treatments faster and easier than deeper wrinkles would. Wrinkles can form when fine lines are not treated and begin to deepen. By using EGF serums and creams that boost hydration and collagen production, you can help your skin keeping fine lines and wrinkles at bay.
Loss of firmness
When we are young, our skin naturally produces collagen and elastin that help it bounce back into place and keep it from sagging. As we get older, natural skin aging as well as environmental factors like UV-exposure, stress, and pollution, start to degrade the collagen and elastin. As a consequence, skin starts to sag. Our Barley EGF helps increase the production of collagen and elastin, making skin feel firmer and more lifted.
Dullness
Have you ever looked in the mirror and felt like your skin just looked lackluster, or even gray? This could be a sign that you are experiencing so-called dull skin; skin looking tired, flat, or even rough. As skin matures, its ability to renew surface cells slows down, causing a buildup of dead cells on the surface. As a result, the natural radiance and pink tone is hidden. Using rejuvenating product, like our EGF serums that boost skin's natural regeneration process, can combat these effects.
Dehydration
Most of us understand the negative impacts of dehydration on our overall health, but it can also wreak havoc on our skin. Dehydrated skin is characterized by a lack of water in the skin. As we get older our skin is more likely to suffer from dehydration and the best way to tackle it is implementing the ideal skincare routine, featuring moisturizing face creams or serums, with mild, natural, and effective hydrating ingredients.
This Product is Pure, Green and Clean