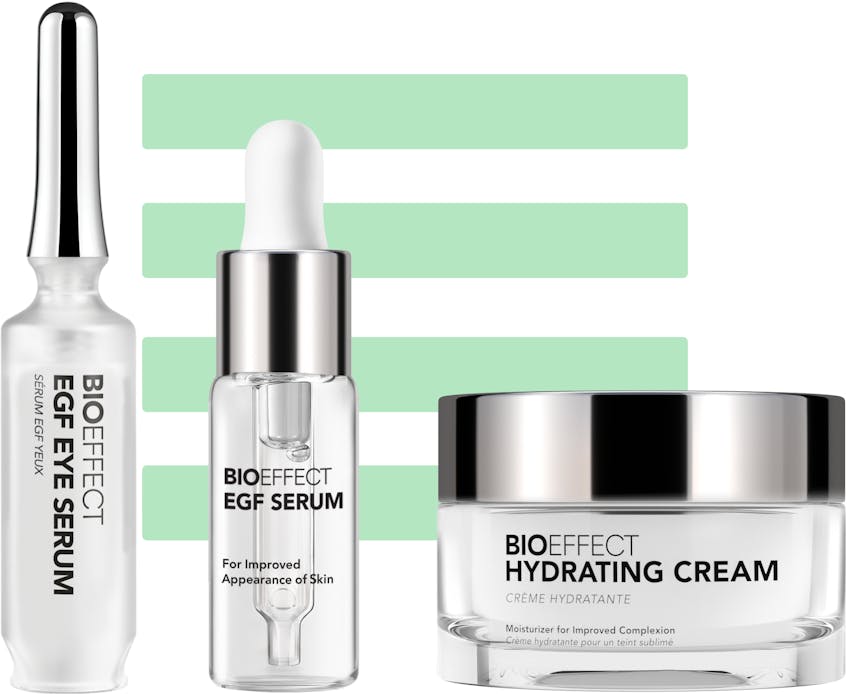 Prevent Collection
Designed for younger skin, the BIOEFFECT Prevent Collection, is focused on hydration and boosting the skin's natural regeneration process. By protecting the skin from the sun and using effective age-defying skincare products from an early age we can prevent premature skin ageing (value £259).
£220
Products
EGF Serum (15 ml): An award-winning, age-defying serum with Barley EGF to reduce the appearance of wrinkles and fine lines, boost hydration, and restore younger-looking skin with only 7 pure ingredients.

EGF Eye Serum (6 ml): A refreshing and revitalising eye serum for wrinkles, fine lines, and puffiness. Restore younger-looking skin with a higher concentration of Barley EGF.

Hydrating Cream (30 ml): A refreshing water cream, formulated with pure Icelandic water, Barley EGF, Hyaluronic Acid, and Vitamin E, boosts skin's moisture levels and leaves skin soft, smooth, and radiant for 12 hours.
Key Ingredients
Barley EGF – Moisture-binding, skin-rejuvenating, and signaling protein. The first of its kind to be produced in plants by BIOEFFECT scientists to combat the visible effects from the loss of the EGF found in our skin naturally. Barley EGF helps support the skin's natural collagen production and is essential for keeping skin looking smooth, healthy, and youthful.
Hyaluronic Acid – A vital substance naturally found in skin. It is critical for maintaining skin hydration. Known for its incredible capacity to attract and hold vast amounts of moisture. Hydrates and plumps the skin.
Glycerin – Powerful plant-based humectant that pulls moisture into the skin, while smoothing and conditioning the skin's surface.
Icelandic Water – Clean, soft, and pure, as it is geologically filtered through layers of inert volcanic lava, with a low concentration of hard minerals such as calcium and magnesium.
Full ingredient list

EGF Serum: Glycerin, Water (Aqua), Sodium Hyaluronate, Tromethamine, Sodium Chloride, Barley (Hordeum Vulgare) Seed Extract, Egf (Barley Sh-oligopeptide-1)
EGF Eye Serum: Water (Aqua), Glycerin, Butylene Glycol, Carbomer, Sodium Chloride, Phenoxyethanol, Sodium Citrate, Sodium Dehydroacetate, Sodium Hyaluronate, Barley (Hordeum Vulgare) Seed Extract, Egf (Barley Sh-oligopeptide-1)
Hydrating Cream: Water (Aqua), Caprylic/capric Triglyceride, Butylene Glycol, C12-20 Acid Peg-8 Ester, Cetyl Alcohol, Dl-alpha Tocopherol, Phenoxyethanol, Sodium Hyaluronate, Ethylhexylglycerin, Carbomer, Sorbitan Oleate, Potassium Sorbate, Potassium Hydroxide, Citric Acid, Barley (Hordeum Vulgare) Seed Extract, Egf (Barley Sh-oligopeptide-1)
For external use only. Use only as directed. If irritation occurs, consult a dermatologist.
Perfect for
Dehydration
Most of us understand the negative impacts of dehydration on our overall health, but it can also wreak havoc on our skin. Dehydrated skin is characterised by a lack of water in the skin, not oil. As we get older our skin is more likely to suffer from dehydration and the best way to tackle it is to use moisturisers or serums that contain hyaluronic acid, which helps to retain moisture in the skin.
Dullness
Have you ever looked in the mirror and felt like your skin just looked lackluster? This could be a sign that you are experiencing dull skin. As skin matures, its ability to renew surface cells slows down, causing a buildup of dead cells on the surface. As a result, the natural radiance is hidden. It's important to exfoliate your skin regularly and use an EGF serum that rejuvenates your skin and boosts its natural regeneration process.
Fine lines
Fine lines often indicate the beginning of the skin's ageing process. They are small and shallow and may be hard to see initially. Fine lines are so superficial that they respond to treatments faster and easier than deeper wrinkles would. Wrinkles form when fine lines are not treated quickly and begin to deepen but can also form in other areas of the face, like our expression lines. By using EGF serums and moisturisers that boost hydration and collagen production you can keep fine lines and wrinkles at bay.
This Product is Pure, Green and Clean