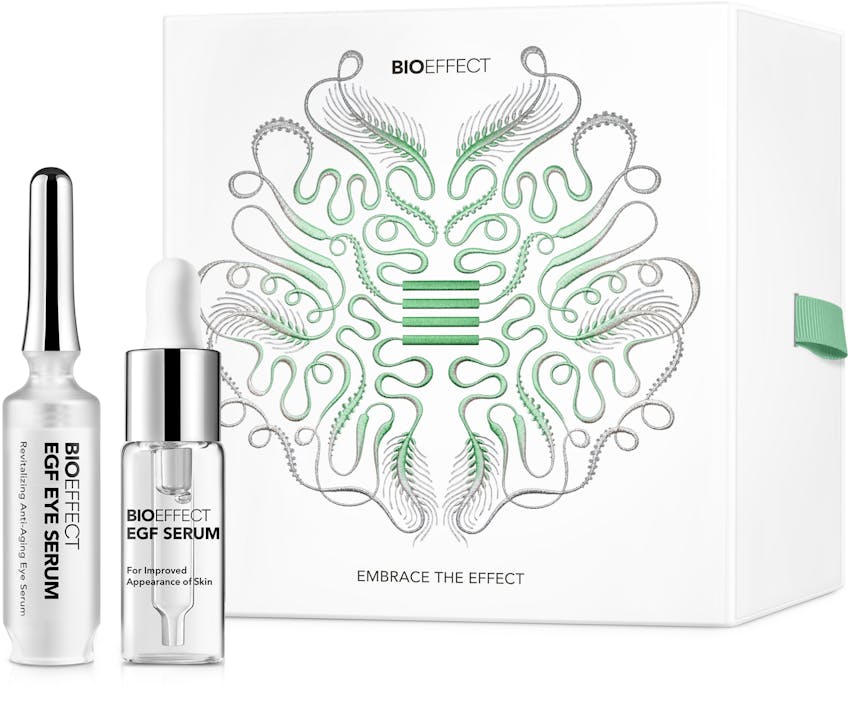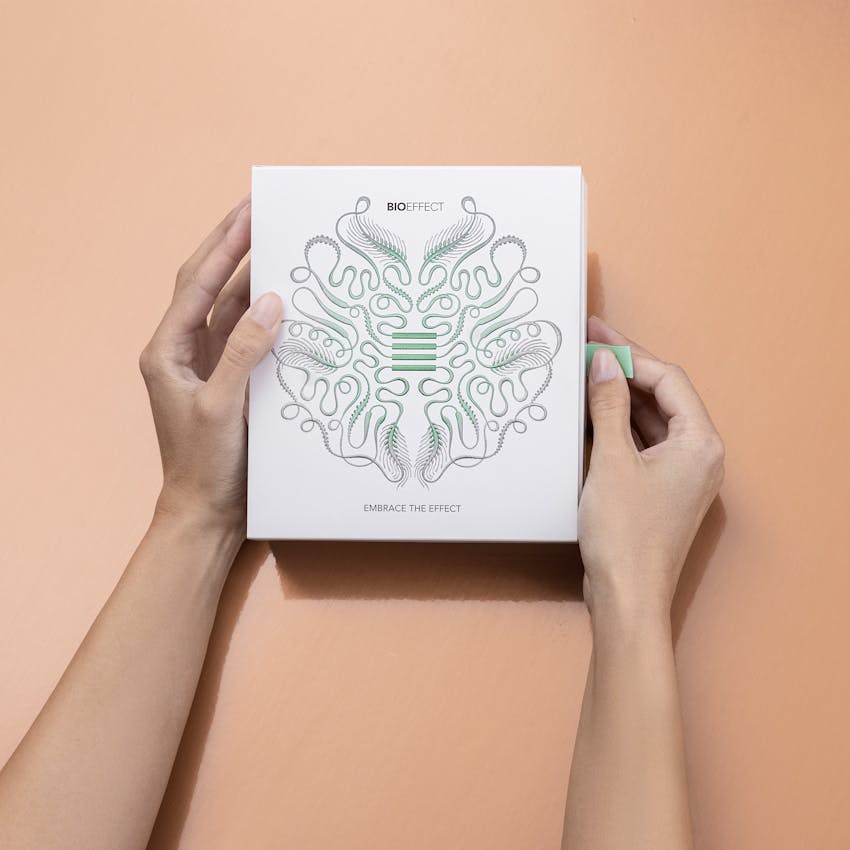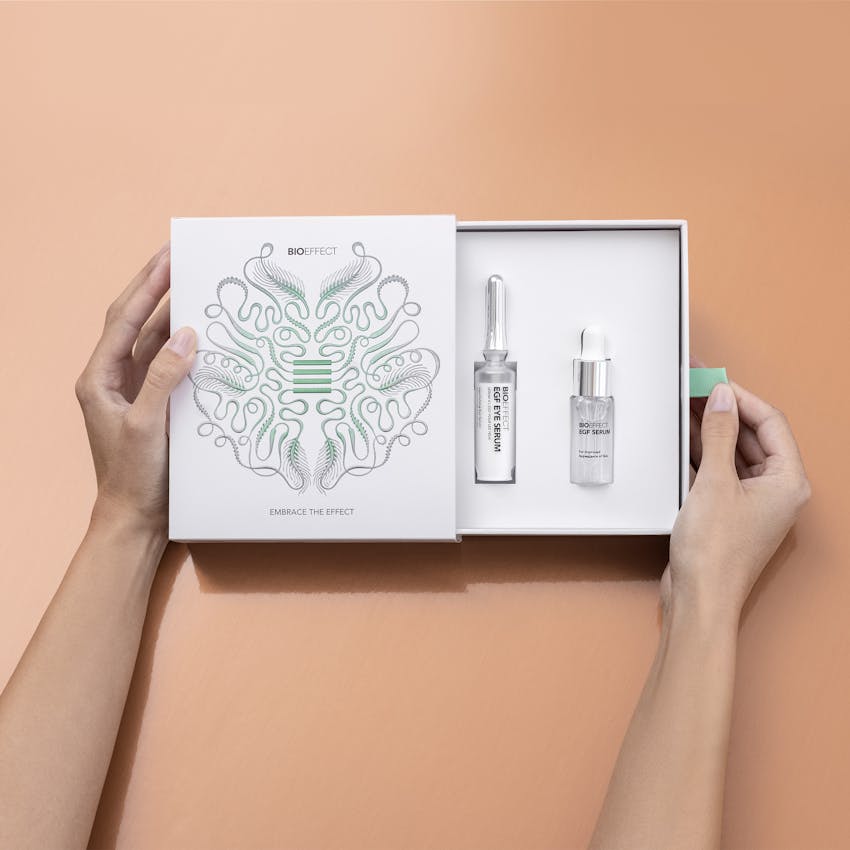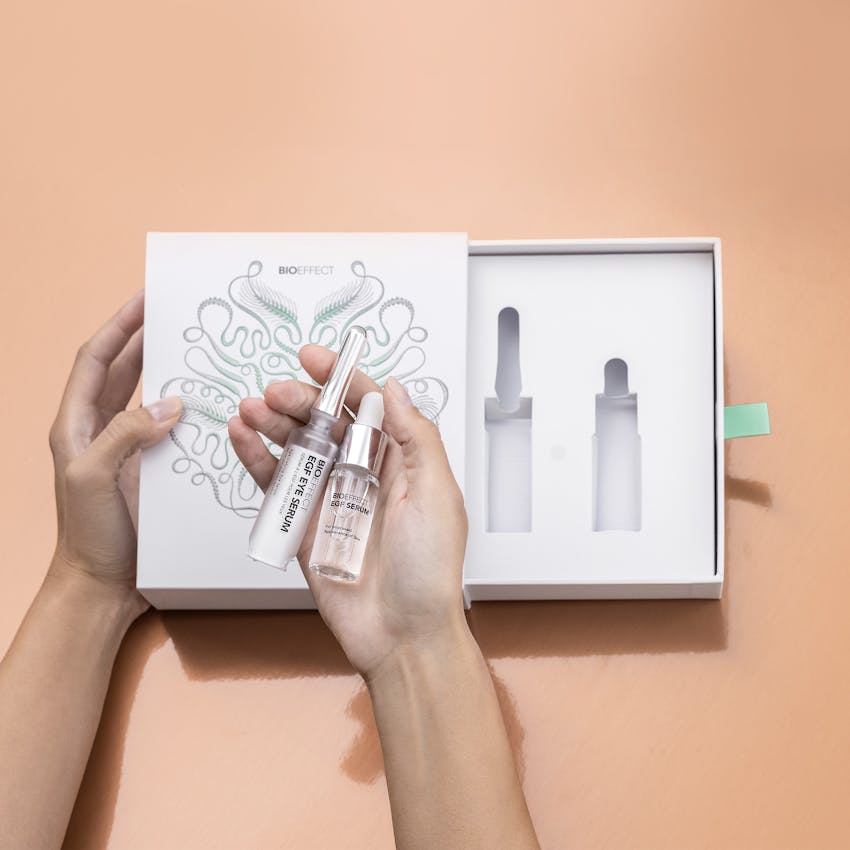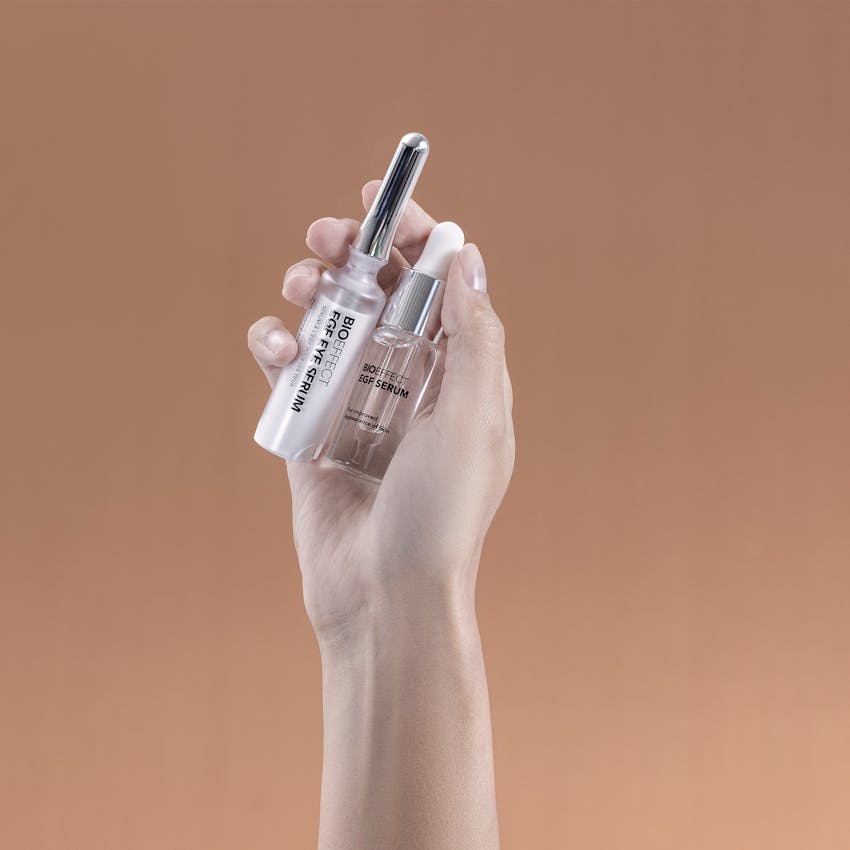 Power Duo Gift Set
Discover a true anti-ageing power couple in this exclusive luxury skincare set. Featuring two BIOEFFECT bestsellers, EGF Serum and EGF Eye Serum – together they provide you with an impressive EGF routine for face and eyes that delivers real, lasting results (value £199).
Features and Benefits
Our award-winning, bestselling EGF Serum is incredibly potent on its own; significantly reducing appearance of fine lines and wrinkles, increases skin firmness and elasticity, while restoring your skin's youthful radiance. The EGF Eye Serum contains a higher concentration of EGF to specifically target the delicate eye area, minimising the appearance of fine lines and wrinkles, reducing under-eye puffiness, and leaving the skin looking radiant and firm. Together they provide you with an impressive EGF routine that delivers real, lasting results.
This set includes
EGF Serum
Minimises the Appearance of Fine Lines and Wrinkles
Boosts Hydration
Visibly Smoother, Plumper and Firmer Skin
Size: 15ml / 0.5 fl.oz.
EGF Eye Serum
Reduces Appearance of Fine Lines & Wrinkles
Reduces Look of Undereye Puffiness
Visibly Improves Firmness and Density, Minimising Crepiness on Eyelids
Suitable for All Skin Types
Oil-free, Fragrance-free, Alcohol-free and Gluten-Free
Hypoallergenic
Size: 6ml / 0.2 fl.oz.
Key Ingredients
Barley EGF – Moisture-binding, skin-rejuvenating, and signaling protein. The first of its kind to be produced in plants by BIOEFFECT scientists to combat the visible effects from the loss of the EGF found in our skin naturally. Barley EGF helps support the skin's natural collagen production and is essential for keeping skin looking smooth, healthy, and youthful.
Hyaluronic Acid – A vital substance naturally found in skin. It is critical for maintaining skin hydration. Known for its incredible capacity to attract and hold vast amounts of moisture. Hydrates and plumps the skin.
Glycerin – Powerful plant-based humectant that pulls moisture into the skin, while smoothing and conditioning the skin's surface.
Full Ingredient Lists
EGF SERUM: GLYCERIN, WATER (AQUA), SODIUM HYALURONATE, TROMETHAMINE, SODIUM CHLORIDE, BARLEY (HORDEUM VULGARE) SEED EXTRACT, EGF (BARLEY SH-OLIGOPEPTIDE-1)
EGF EYE SERUM: WATER (AQUA), GLYCERIN, BUTYLENE GLYCOL, CARBOMER, SODIUM CHLORIDE, PHENOXYETHANOL, SODIUM CITRATE, SODIUM DEHYDROACETATE, SODIUM HYALURONATE, BARLEY (HORDEUM VULGARE) SEED EXTRACT, EGF (BARLEY SH-OLIGOPEPTIDE-1)
Maximise Your Skincare Routine
Barley EGF can do its best work in a moisture-rich environment. To maximise results, incorporate into an everyday BIOEFFECT EGF skincare routine.
Pair with:
EGF Essence is inspired by Asian skincare that uses these 'miracle waters' to boost hydration and prepare the skin to receive a serum or cream.
EGF Serum is an award-winning, age-defying serum with only 7 pure ingredients.
This Product is Pure, Green and Clean
How To Use
Press gently on the dispenser base on the EGF Eye Serum to release product. Apply the cooling roller ball to clean skin above and below the eye. Massage gently with fingertips for even penetration. Wait 3-5 minutes to allow the serum to absorb before applying sunscreen or makeup.
For best results apply 2-4 drops of EGF Serum to the face, neck, and décolleté, twice per day. Apply in the morning and wait 3-5 minutes before applying a moisturiser, sunscreen, or makeup. Apply in the evening to clean skin for advanced skin repair while you sleep.
For external use only. Use only as directed. If irritation occurs, consult a dermatologist.